Thai food has a bit of a spicy reputation. Don't forget that the spice of any dish can be moderated up or down, depending on your preference. I have seen many similar versions to this simple, flavorful and yet not overly spicy dish.
Ingredients
1 lb ground beef
3 tablespoons lime juice
3 tablespoons soy sauce
3 tablespoons sesame oil (or substitute with another oil)
1 tablespoon agave OR honey
1 clove garlic
1 1/2 teaspoons minced ginger
1 1/4 teaspoons curry paste
Directions
Brown the beef over medium heat. While the meat is browning combine the remaining ingredients in a small bowl. When the meat is browned and well drained, add the spice mixture. Keep warm. Serve with Cumin Dressing – see other serving suggestions below.
Cumin Dressing
2 tablespoons olive oil
2 tablespoons lemon juice
1/4 teaspoon grated lemon zest
3/4 teaspoon ground cumin
pinch of cayenne pepper, salt, pepper, all to taste
Directions: Wisk ingredients together in a small bowl (or fill a salad dressing cruet and shake to combine.)
Three Simple Serving Suggestions
Serving option 1: traditionally served on top of salad greens
Serving option 2: fill lettuce wraps with the beef mixture
Serving option 3: serve the beef mixture over rice and peas
Cumin – This Spice Packs a Potent Medicinal Punch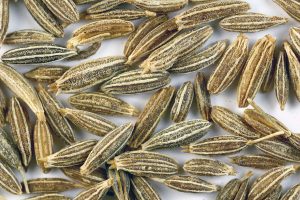 Did you know that ancient Greeks kept bowls of cumin on their table? Cumin seeds can be included in recipes whole or used in its typical ground form that you find on the spice aisle.
This common spice is a popular ingredient in Indian, Middle Eastern and Mediterranean food. So why you may ask, is cumin also found in Mexican food? It turns out that those who came to colonize the new world brought cumin along and soon it found its way into the native cuisine.
Although we tend to use spices in small quantities, cumin does have some nutritional benefits and can help you get your vitamins and minerals from food sources. Cumin is high in iron and other minerals such as magnesium and potassium. This seed is used around the world as a treatment for digestive issues.